The People Have Spoken: The Aveso People's Choice Changing Places Awards 2018/19
The People's Choice Changing Places Awards 2018/19
So far, 2019 has been quite a significant year for the Changing Places Campaign. The English government has put into place two £2 million grants for Hospitals and for Motorway Services, whilst the Scottish and English government have held a consultation to look at making Changing Places mandatory. With 13 years since Changing Places Toilets established and began Changing Lives, it's great to see these changes taking place and more than 1,300 facilities in the UK – leading the campaign globally.  However, with over 1/4 million people in the UK that are not able to use standard Doc 'M' toilets, is this enough?  Standard accessible toilets don't provide Changing Tables or Hoists and are often too small to accommodate more than one person. This means that people with complex needs or disabilities are often forced to be changed on a toilet floor. Should it not be the right of everyone to be able to use a toilet whatever their situation or location in the UK?
To celebrate Changing Places Awareness Day, Aveso, sponsors of the Changing Places Campaign, launched the annual People's Choice Changing Places Awards 2018/19 – a public vote for the people's favourite Changing Places toilets. It is hoped that a celebration of three fantastic facilities will help to raise more vital awareness of the life changing difference Changing Places toilets make to people's lives.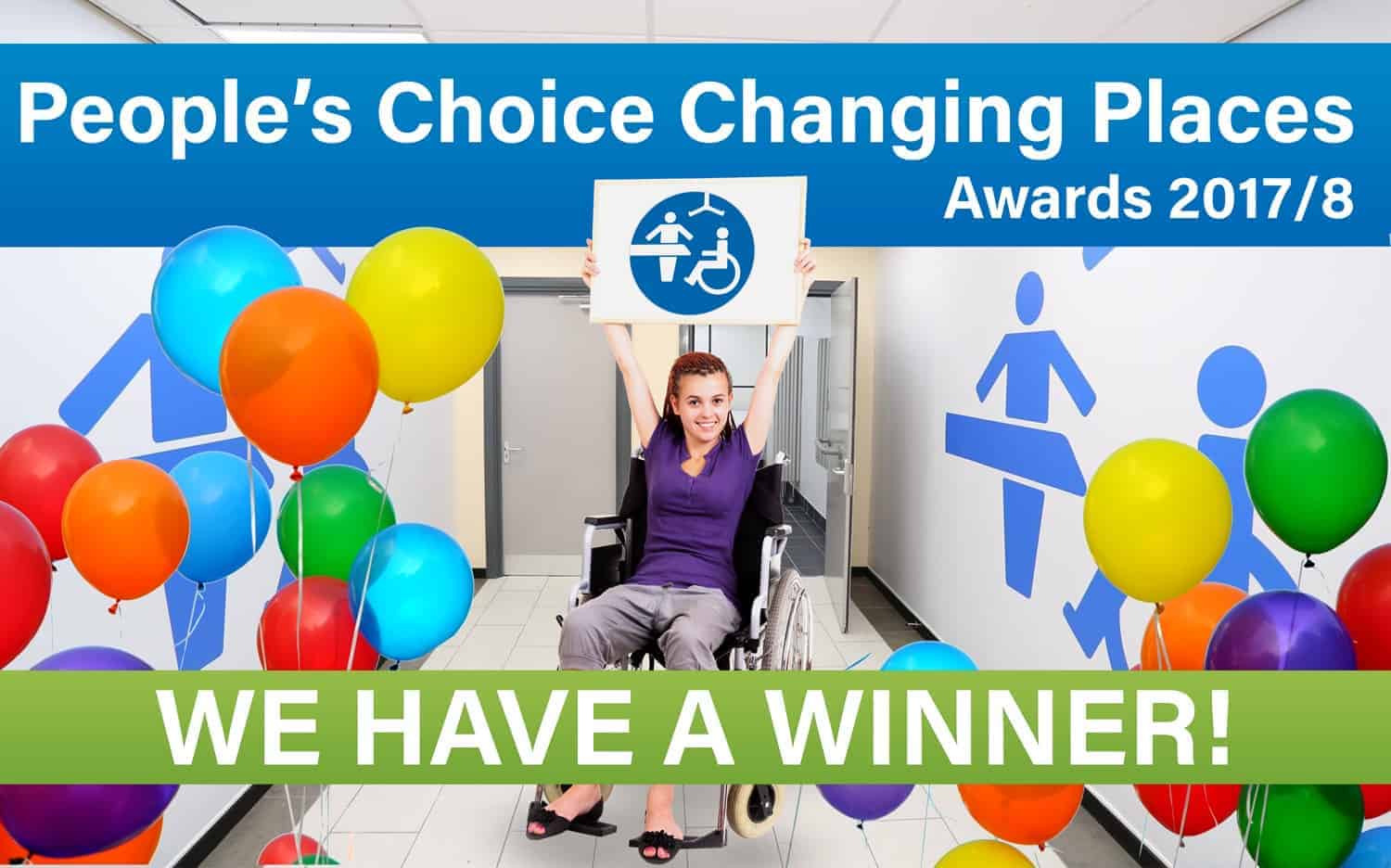 The Overall "Best Registered" Changing Places Facility 2018/19 winner is Manx Museum
The Winner of the People's Choice Changing Places Awards 2018/19 for the Overall "Best Registered" Changing Places Facility is the fantastic Manx Museum, Isle of Man.
A very deserving winner, this Changing Places facility marks the Isle of Man's first publicly accessible Changing Places Toilet. A true community project, Manx Museums' Changing Places was born from a collaboration between Manx Lottery Trust, Manx National Heritage Museum and National Trust.
The toilet provides a safe and fully equipped bathroom, which includes a height adjustable changing table, an overhead powered Ceiling Hoist, an Adjustable Washbasin, a centrally placed Toilet with room either side for carers and a beautiful mural to help create a restful location. Directly next door, Manx Museum have provided a 'Quiet Room' for visitors who may experience heightened sensory anxiety and for use as a space for those who may need or wish to use the room for quiet contemplation.
At every stage from excellent signage, access routes to friendly inviting staff and fantastic facilities, it is clear that Manx Museum really go above and beyond to ensure everybody is welcome at their Museum.
Edmund Southworth, Director of Manx National Heritage, said:
"The absence of suitable toilet and changing facilities can mean that people with disabilities are often limited to the places they can go or the length of time they can spend there.
"[Providing a Changing Places Toilet] Is the right thing to do. We've had some incredible feedback already, just proving every small individual use of the facilities can be life changing. [Changing Places] allow people to come to town with the confidence and the security that they can use the facilities that they need.
On winning the People's Choice Changing Places Awards 2018/19 for the Overall "Best Registered" Changing Places Facility:
"I was shocked and incredibly humbled as it has come from a community of users who know what it means and their perspective is worth far more than any critic or architectural award. This is hugely important and we're very very pleased."
The "Most Individual" Registered Changing Places Facility is voted to The Deep Aquarium
The "Most Individual" Registered Changing Places Facility is voted to The Deep Aquarium, Hull. Bringing the theme inside, the Changing Places at The Deep incorporates two walls of mesmerising fish creating an interesting aesthetic calming space. The toilet includes a hoist, changing table, adjustable basin and mirror, centrally placed toilet and privacy screen all wrapped in a fantastic coral reef mural to create an interesting space.
The Changing Places facility is open to any who need it, not just those visiting The Deep and can be found on the Ground Floor near the lifts.
Louise Kirby, Operations Manager, explained why they wanted to make their Changing Places toilet an interesting and individual space: "We didn't want this room to be clinical, yes it has to be practical, yes it has to have the equipment in place, but we wanted it also to be a relaxing, beautiful envi-ronment. An aquarium is a great relaxing space for everybody, so why not bring that into the Changing Places facility."
The Best "Newly Registered" Changing Places Facility winner is Annandale Services
The Best "Newly Registered" Changing Places Facility is awarded to Annandale Services, Junc 16 A74 (Road Chef) in Lockerbie. Annandale Motorway Services provide a crucial pit-stop location for the disabled community travelling to or through Dumfries and Galloway. This facility with its excellent large signage ensures users can easily access the facilities and helps raise awareness about Changing Places.
The Sarah Newton MP, Minister for Disabled People welcomed the commitment from motorway service area providers:
"Motorway service areas provide a crucial role to the travelling public and I am so pleased with the support that they have shown Changing Places.  Their plans to invest and build more facilities will rightly be welcomed by disabled travellers and those with health conditions across the country"
Jenny Miller, CEO of PAMIS – co-chairs the Changing Places Consortium, said:
"PAMIS and the Changing Places Consortium congratulate this year's winners of the People's Choice Changing Places Awards 2019.  We are particularly delighted that the winner of the Best Newly Registered Changing Places toilet is the Road Chef at Annandale Services A74 (M), Dumfries and Galloway.
"It's fantastic that there is a growing number of service stations and other transport hubs following suit and recognising the requirements of people with more complex healthcare needs through the installation of Changing Place toilets. This helps to reduce the barriers that disabled people and family carers face when travelling."
Clare Lucas, Head of Policy and Campaigns at Muscular Dystrophy UK – co-chairs of the Changing Places Consortium, said:
"Going to the toilet is a basic human right. But too many disabled people are being denied this because there aren't enough Changing Places facilities.
 "The People's Choice Awards are voted for by Changing Places campaigners and celebrate the venues and businesses making a positive difference, and we would like to thank them for their support. We hope others will follow their lead in making society more inclusive."
Nick Kent, Co-Founder of Aveso – the official Changing Places sponsor, said:
"Giving people a chance to vote for their favourite Changing Places toilet is a nice way to encourage and celebrate facilities that go above and beyond. Installing a toilet is a good starting point, but where our winners really excel is in the detail and the care they clearly demonstrate to visitors. Congratulations to all three worthy winners!"